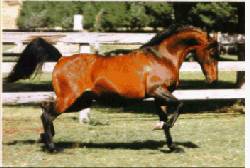 *Elimar
(Celebes x *Elizaa)

*Elimar was imported to America from Poland in 1970. He became a "Sire of Significance" and the leading sire of champions of the Celebes line. He was raced successfully in Poland, and was immediately placed in the Mekeel Ranch breeding barn upon importation.

Celebes
(Witraz x Canaria)
Elimar's sire, Celebes, was a reknown and highly successful stallion in Poland.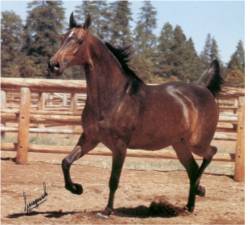 *Elizaa
(*Pietuszok x Ellora)
Elimar's dam, *Elizaa, was a lovely, bold moving, bay mare imported from Poland to the U.S.


*Pietuszok
(*Priboj x Taktika)
*Pietuszok was born in Russia at the Tersk stud, then exported to Poland when he was four. Later on he was exported to Canada. He was a prepotent stallion that has left a legacy of many fine Arabians.


Port Bask
(*Bask++ x *Portulaka)
Port Bask is also on the dam's side of Night Magic CLA's pedigree. He was considered to be the best producing *Bask++ son and was especially known for passing on his extreme athletic ability.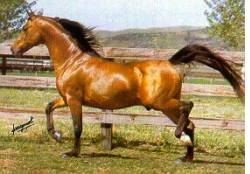 Port Bask showing off his trot.


Arabian Horse Association Codes

| | | |
| --- | --- | --- |
| | * | The horse was imported into the United States |
| | + | Legion of Honor |
| | ++ | Legion of Merit |
| | +++ | Legion of Supreme Honor |
| | +// | Legion of Excellence |
| | ++++ | Legion of Masters |