Fadjur
(Fadheilan x Bint Sahara)

Fadjur was a very charismatic and animated bay stallion born in 1952. He was bred by Harry Linden of Spokane, Washington and sold to the Jack Tone family as a yearling. After several Top Ten wins, he became a Reserve National Champion stallion at the age of 16 "to the near hysterical enthusiasm of his wildly-clapping admirers". He sired numerous champions including Khemosabi's++++ dam, Jurneeka++, that earned national titles. Click here to go to the Jack Tone Ranch site.


Fadheilan


(*Fadl x *Kasztelanka)
This bay stallion was born in 1942 at the Babson stud. His was, by far, the most successful branch of the *Fadl line (mostly due to the success of Fadjur's get).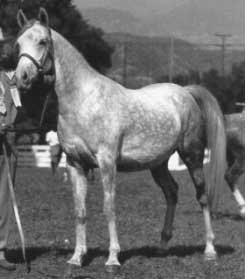 Bint Sahara


(Farawi x Bint Sedjur)
Fadjur's dam, Bint Sahara, was a grey mare born in 1942. She was an outstanding broodmatron with nine champion offspring to her credit. Her equally stunning daughter, Fersara, produced another five champions of her own.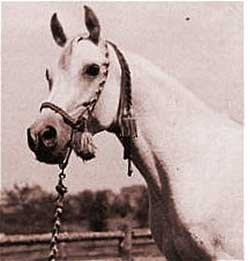 *Fadl


(Ibn Rabdan x Mahroussa)
*Fadl was an Egyptian stallion born in 1930. He was the sire of Fadheilan. *Fadl was described as a horse who was all things to all men; endurance winner, polo pony, harness and pleasure horse, sire and child's mount. George Cason, one-time manager of the Babson Stud remembered *Fadl fondly: "*Fadl was an all-around horse - shown Western, English, 3-gaited and polo." He also became a 100 mile race winner.

In addition to his own successes, *Fadl also became one of the most influential and prepotent sires of his era. He sired 11 producers of National winners and his bloodlines are still in demand today as witnessed by the numerous champions, including many winners at the National level, that carry his blood.
Click here to go to Narada Arabian's site to see more about *Fadl.

*Kasztelanka


(Koheilan I x Bialogrodka)
*Kasztelanka is well remembered (at least by the older crowd) as the dam of "the fiery Fadheilan". She was a bay mare born in 1929 and then imported from Poland in 1938 by Henry Babson. She was a moderately successful racehorse in Poland, having placed in each of her four races. It is believed that she is the source of the presence and animation seen in Fadjur and most of his get.

Ibn Rabdan
Ibn Rabdan was a dark chestnut stallion that was used extensively for breeding purposes at the Egyptian Agricultural Organization (EAO).
IA Shadow Dancer has seven crosses to this stallion through Fadl and Samira.

Mahroussa
This beautiful grey Egyptian mare produced two offspring by Ibn Rabdan - Fadl and Maaroufa.
There are 6 crosses to this mare in IA Shadow Dancer's pedigree (5 through *Fadl and one through Maaroufa).
Arabian Horse Association Codes

| | | |
| --- | --- | --- |
| | * | The horse was imported into the United States |
| | + | Legion of Honor |
| | ++ | Legion of Merit |
| | +++ | Legion of Supreme Honor |
| | +// | Legion of Excellence |
| | ++++ | Legion of Masters |