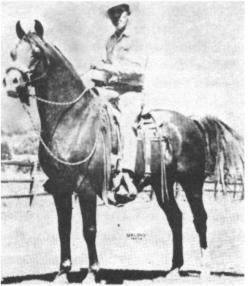 Ga'Zi


(Abu Farwa x Ghazna)

Ga'Zi was born in 1949 at the Mekeel Ranch in California. He prevailed over stiff competition from Abu Baha to become the top producing son of the reknown Abu Farwa. Ga'Zi was a champion in his own right, having won a number of championships and the Reserve Pacific Coast Championship in 1954. In 1970 he became one of the "Living Legends" and in 1976 he was also elected as "A Supreme Sire".

He had a remarkable knack for producing Canadian National Champions:

| | |
| --- | --- |
| 1963 | Ga'Zima+ and Sir Lancer+ won the Mare and Stallion National Championship titles. |
| 1967 | Fateen, Miss Century 21, Ganeyn and Far'zi took the Stallion and Mare National Championships and Reserve National Championships. |
| 1968 | Llana and Haassan walked away with the Mare and Gelding National Championships. |

Click here to link to: Arabian Horse Legacy - Woody Madsen and Ga'Zi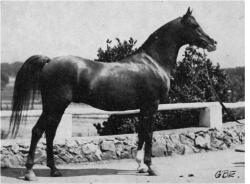 Abu Farwa


(Rabiyas x *Risseletta)

Abu Farwa was a chestnut stallion born in 1940 at the W. K. Kellogg Institute. He had wonderful presence and a classic beauty along with his height of 15-1 1/2 hands. He inherited his high and airy trot from both sides of his pedigree and was magnificent under saddle.

Abu Farwa was the chief progenitor of the Gulastra bloodline, and also promoted the Skowronek line through his dam, *Rissletta, who was by Naseem.
Abu Farwa was shown lightly and became a champion in halter and park classes. He was known for producing horses that "can do" - show ring champions, excellent working mounts such as endurance and stock horses, and top producing brood mares. His sons have also carried on the tradition by siring numerous champions of their own.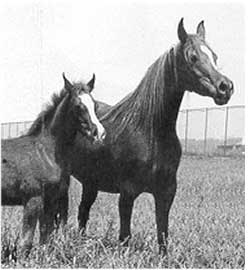 Ghazna
This lovely mare produced eleven champion offspring. She is pictured here with Ga'Zi at her side.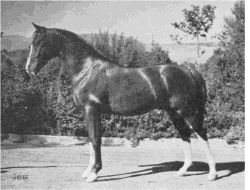 Rabiyas


(Rahas x Rabiyat)
This chestnut stallion was foaled in 1936 at the Maynesboro Stud. He became a top sire at the Kellogg Institute and was the leading progenitor of the Gulastra line until Abu Farwa took over. He had quality, substance, and a good temperament.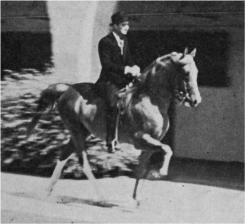 Rabiyas was 5 gaited. This is a photo of him "at the rack". He was prepotent and passed his outstanding, dynamic action on to numerous champion offspring.
He was eventually sold to an Arabian breeder in South Africa where he lived to be over 30 years of age.

Rabiyat


(Rehal x *Rokhsa)
Rabiyat, the dam of Rabiyas, was foaled in 1926 at the Maynesboro Stud. She was a large bay mare, standing 15-0 1/2 hands, with excellent conformation. She was a granddaughter of *Berk and inherited his bold, square trot. She always went in good form, animated, and with full use of her shoulders, knees, and hocks. At Maynesboro she was used as a polo mount and for jumping. She produced a number of champion offspring for The Kellogg Institute.

Gulastra


(*Astraled x Gulnare)
Gulastra was a bright chestnut stallion born in 1924 at the Maynesboro stud. In addition to the hundreds of outstanding individuals produced through Rahas (especially via Abu Farwa), Gulastra also had championship lines through Islam, Julep (especially through Synbad+), Katar, and Naharin.

Arabian Horse Association Codes

| | | |
| --- | --- | --- |
| | * | The horse was imported into the United States |
| | + | Legion of Honor |
| | ++ | Legion of Merit |
| | +++ | Legion of Supreme Honor |
| | +// | Legion of Excellence |
| | ++++ | Legion of Masters |