Imari Rose


(JA Magnificat+++ x Anchor Hill Ezrah)

This chestnut mare has her sire's wonderful disposition, but she also shows her dam line very strongly, especially the beautiful classic head and the refined elegance of Al Metrabbi++. In this 1995 photo her daughter, Aria, was at her side.

JA Magnificat+++


(*Bask++ x Queen Margaretta+)
This outstanding son of the immortal *Bask++ has earned his Supreme Legion of Merit with numerous championships in English Pleasure and a U.S. National Top Ten in Pleasure Driving.
JA Magnificat+++ has also produced numerous offspring that have earned championships at the regional and national levels. He is the all-time leading sire of Arabian Sweepstakes halter winners (to the best of our knowledge his record has not been beaten).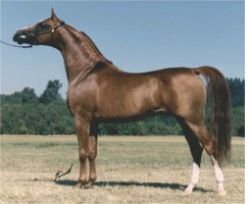 JA Magnificat+++ has a wonderful disposition. If you ever get the chance to visit him be sure to bring Triscuit crackers, as they are one of his favorite treats.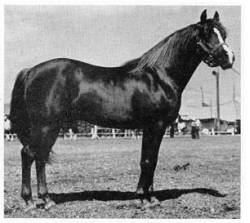 Ankar
(Antez x Rehasafa)
A photograph of JA Magnificat's dam, Queen Margaretta+, was not available. She was an exceptional mover who won her Legion of Merit in the performance ring. Her sire, *Prince Zaim, was imported to the U.S. in 1963 and earned a U.S. Top Ten award in English Pleasure. Ankar, the stallion pictured here, was her maternal grandsire. He was a prize winning stallion and producer of champions.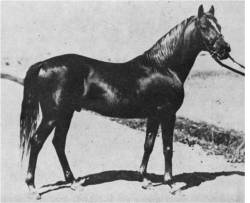 Antez
(Harara x Moliah)
Antez, the sire of Ankar, was a golden chestnut stallion foaled in 1921 in California. He had "straight Davenport" bloodlines and was the grandson of the famous war mare *Wadduda. He placed 3rd in the Mature Stallions class in the 1933 National Arabian show. He was very prepotent and his offspring went on to win many championships.

At 12 years of age Antez broke a number of American Arabian racing speed records (with no prior racing experience). He was then sold to Poland where he stood at stud for a few years, but he returned to the U.S. around 1937.
Click here to see an extensive writeup on Antez on Rick Synowski's web site.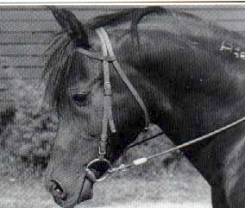 Char Echo
(Negem x Sirhabba)
This very typy bay stallion was the sire of one National winner in performance. Char Echo was the maternal great grandsire of IA Shadow Dancer. Char Echo and Al Metrabbi++ were the primary stallions at Anchor Hill Arabians for a number of years.
Negem
(Fa-Serr x Fay-Negma)
Negem was one of the best sons of Fa-Serr and he, in turn, was the sire of National winners in performance classes.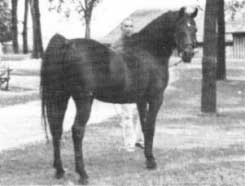 Fa-Serr
(*Fadl x *Bint Serra I)
Fa-Serr was a National Champion and the sire of four National winners in Halter, English Pleasure, and Park. Ten of Fa-Serr's get have produced National winners and three of his sons, including Negem, are among the leading Egyptian sires of National winners.
IA Shadow Dancer has 5 crosses to the very influential Egyptian stallion *Fadl. Two of the crosses are through Fa-Serr, two through Fay-El-Dine, and one through Habba. There is also one cross to *Fadl's full sister, *Maaroufa.

*Bint Serra I
This lovely mare was the dam of Fa-Serr.

Arabian Horse Association Codes

| | | |
| --- | --- | --- |
| | * | The horse was imported into the United States |
| | + | Legion of Honor |
| | ++ | Legion of Merit |
| | +++ | Legion of Supreme Honor |
| | +// | Legion of Excellence |
| | ++++ | Legion of Masters |